Dental Implants – Reno, NV
The Next Best Thing to Natural Teeth
Over the past few decades, dental implants have emerged as the premier tooth replacement in the world, loved by dentists and patients alike. Compared to every other restoration, they provide the most reliable, durable, and natural-looking results available today. Whether you are missing a single tooth or require a full denture, Dr. Adams at Summit Endodontics can help you reclaim your smile with this state-of-the-art solution right here in Reno. To learn more about dental implants and schedule an initial consultation, contact us today.
Dental Implant Placement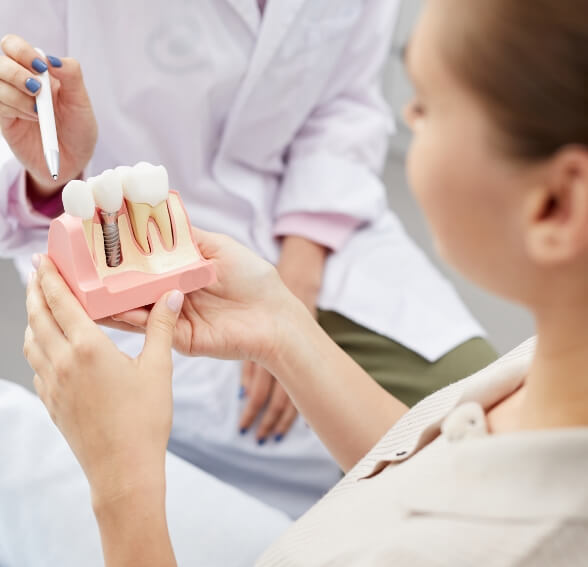 While our number one goal is to help our patients preserve all of their natural teeth for as long as possible, sometimes, the absolute best thing we can do for someone's oral/overall health is remove one. We may choose to extract a tooth if It is too damaged or decayed to be repaired or there is a crack or vertical root fracture.
While dental implants are not as good as a healthy natural tooth, they are the best single tooth replacement options that we have in the field of dentistry.
A dental implant is actually a small titanium post that is placed directly into the jawbone in order to mimic the root structure of a lost tooth. Once there, it will actually bond with the surrounding bone just like a natural root, and then it can be attached to a dental restoration to replace the tooth above the gumline. Dr. Adams is able to expertly perform dental implant surgery, and then you can visit your general dentist to have the implant topped with a custom prosthetic tooth.