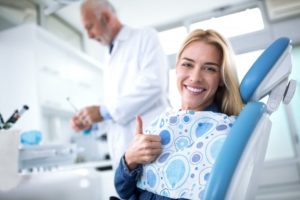 Tooth loss is an unfortunate problem that affects millions of Americans every year, but dental implants are considered the best solution by far. While dental implants in Reno are more accessible to patients than ever before, it's worth noting that not everyone is a candidate for this treatment. You have to be in generally good oral health. It's also important that you have a strong jaw before implant placement. Keep reading below to learn why that matters.
Why Jawbone Density Matters with Dental Implants
One of the key phases of dental implant treatment is known as osseointegration. This is the months-long process during which the titanium implant posts physically fuse with your jawbone tissue. If your jawbone is not dense enough to accommodate this process, there is a significant chance that you'll experience implant failure.
On the other hand, when you have a strong jaw and adequate bone strength, your implants are much more likely to complete the osseointegration process and basically become a part of your own anatomy. This is why your dentist in Reno will perform detailed examinations and take x-rays before placing the implants. These precautions help ensure you're a good candidate for implants and minimize the risk of implant failure.
How to Maintain a Healthy Jawbone
The good news is that it's fairly easy to keep your jawbone healthy and strong by adhering to the right diet. For example, it's a great idea to consume plenty of calcium, as it promotes bone strength. Vitamin D and vitamin K2 also play a role in jawbone health. Some examples of foods that contain these minerals include dairy products like milk and yogurt, liver, eggs, tuna, and cereals.
What You Can Do If Your Jawbone Isn't Strong Enough for Implants
If your jawbone isn't currently strong enough to support dental implants, don't worry. There are plenty of options out there to improve the bone density. Many dentists who place implants can also perform procedures to strengthen the jawbone prior to implant placement. Some of these treatments include:
Bone regeneration (reverses bone damage caused by gum disease)
Bone grafting (helps regrow bone tissue that has atrophied due to missing teeth)
Sinus lift (creates more room for implants in the upper jaw)
Even if your jaw isn't as strong as it could be, that's no reason to avoid rebuilding your smile with dental implants. Schedule a consultation with your local implant dentist to explore your options!
About the Author
Dr. Christopher Hock is an in-house oral and maxillofacial surgeon at Summit Boulevard Dental in Reno, NV. He has more than 12 years of experience in the dental field, including placing and restoring dental implants and performing pre-implant placement procedures to strengthen patients' jawbones. To learn whether your jawbone is strong enough to support as many implants as you need to complete your smile, visit Dr. Hock's website or call (775) 683-3008.