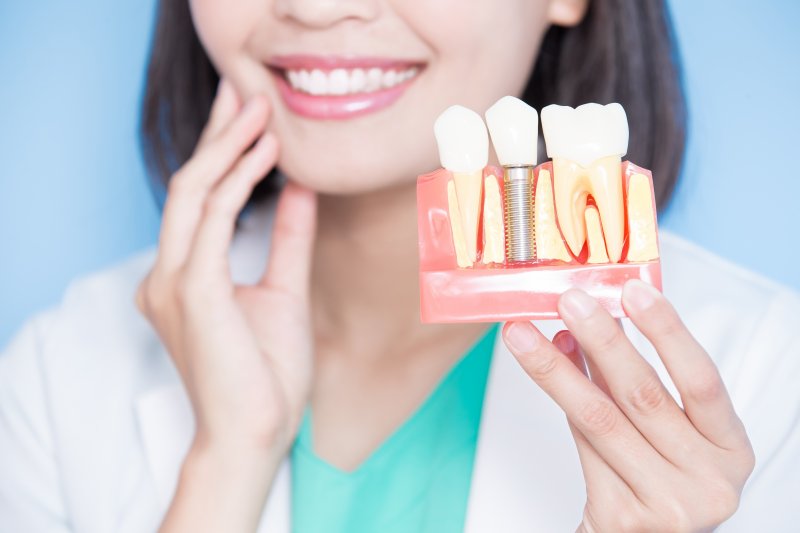 If you're one of the 178 million Americans who are missing at least one tooth, you have several different options when it comes to restoring your smile. But it's important that you do your research, so you make the right decision for your smile. Even though each method has its advantages, dental implants in Reno have become a common favorite by both patients and dentists alike. Continue reading to learn more about the dental implant procedure and what makes you a good candidate.
What Are Dental Implants?
A dental implant is a titanium, screw-like post that is placed directly into the jawbone by your dentist. It is currently the only tooth replacement option that replaces the natural root of the tooth, therefore preventing jawbone deterioration. A replacement tooth is placed at the end of the implant. It is customized to be the exact size, shape, and color needed to flawlessly blend in with the rest of your smile. After the healing is complete and the implant fuses to the jawbone, it functions just like a natural tooth.
What Are the Qualities of a Good Dental Implant Candidate?
Good Oral Hygiene
The success of dental implants relies heavily on how well you take care of them. You should be brushing twice and flossing once daily just like you would with your natural teeth. Using a mouth rinse is also a great option for reducing bacteria in the mouth. If you aren't maintaining your smile now, who's to say that you will after your procedure?
Healthy Gums
Dental implants are vulnerable to gum inflammation. If you develop periodontal disease, your gum tissue could detach from your implant. When the harmful bacteria from the infection attacks your jawbone, your implants are likely to fail.
Sufficient Jawbone
Implants are anchored in the jawbone and eventually, they will fuse together in a process called osseointegration. When you're missing teeth, your jawbone will begin to deteriorate over time. This makes it unlikely to support a healthy dental implant.
No Chronic Disease
Certain chronic diseases, like diabetes, can slow down the healing process and interfere with the process of fusion between the implant and jawbone. It also increases your risk of periodontal disease. Other conditions, like heart disease and sleep apnea, can interfere with the anesthetics used during your procedure which can lead to complications. Implants are best suited for people with good overall health. Any chronic conditions you have should be discussed with your dentist.
Healthy Lifestyle Habits
Smoking tobacco products or heavily drinking alcoholic beverages can cause a variety of issues in the mouth. Excessive drinking causes dry mouth which can interfere with the healing process. Smoking also affects the healing process and makes it more likely that you will develop gum disease. Both of these habits can be destructive, especially for people undergoing a procedure like dental implants.
If you can check all of these off, talk to your dentist in Reno. They will ultimately be able to decide if you make a good dental implant candidate. Together, you can come up with a plan to restore your smile!
About the Author
At Summit Boulevard Dental, Dr. Jelena Zivkovic and her team provide a wide array of services, including dental implants. Dr. Zivkovic graduated with her DMD from the University of Illinois at Chicago School of Dentistry at the top of her class. She is a member of the American Dental Association, the Illinois State Dental Society, and the Chicago Dental Society. She works alongside an endodontist and oral surgeon so patients can get everything they need from one convenient location. For more information or to schedule a consultation, visit her website or call (775) 683-3008.