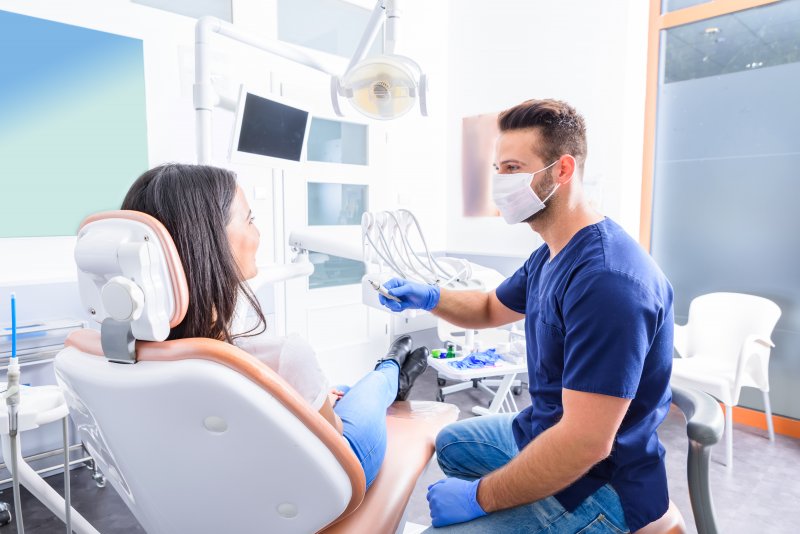 If you haven't been to the dentist in a while, you should know that there are many others just like you. According to the American Dental Association (ADA), 42% of Americans don't see a dentist as often as they should. There are a variety of reasons for this, whether it be because of cost, anxiety, or fear of judgement. Remember that the practice is a judgement-free zone. Their only priority is to provide you with quality dental care so you can have a healthy smile. It's never too late to get back on track with your oral health. Your dentist in Reno explains what you can expect at your first appointment back.
How Long Should You Allow for Your First Appointment?
Since you haven't been into a dental office in a while, it's helpful if you get there early so you have plenty of time to fill out paperwork regarding your contact information, health history, and dental insurance if you have it. Once all of this is complete and in order, you will get started. You should reserve about an hour for this appointment so that the dental team has plenty of time to get everything done and discuss any questions you have.
What Will the Appointment Look Like?
There are many different steps during a regular dental visit. Here are some things that you can expect at your appointment:
X-Rays
Taking an x-ray at the dentist on a regular basis is helpful when it comes to revealing issues that can't be easily seen with the naked eye. This includes jawbone issues, impacted teeth, tooth decay, and more. The process is pretty quick and comfortable. You will have a lead apron placed over your chest and an x-ray sensor is placed in your mouth. You will be instructed when to bite down. After just a few seconds, you'll be all set.
Cleaning
A big part of your appointment consists of your dental hygienist cleaning your teeth. They will check your gumline, remove plaque and tartar with dental instruments, floss your teeth, and polish them to help remove surface stains and make your teeth look brighter.
Checkup
You will have your mouth examined by your dentist. They will check for signs of gum disease, tooth decay, and oral cancer. This is a great time to bring up anything that's been bothering you in your mouth so the issue can be addressed. Your dentist will let you know about any findings or abnormalities and what the proceeding steps will be.
Ask Questions
Your dental visit has an educational aspect to it too. The team will be happy to answer any questions you have about your smile, the appointment, or steps you can take for better oral health.
Before you leave, don't forget to schedule your next appointment. This way you can continue getting the essential dental care you need for a healthy smile!
About the Author
Dr. Jelena Zivkovic obtained her DMD from the University of Belgrade, Serbia before moving to the United States and graduating from the University of Illinois at Chicago School of Dentistry at the top of her class. She is a member of the American Dental Association, Illinois State Dental Society, and Chicago Dental Society. Dr. Zivkovic works alongside an endodontist and an oral surgeon so patients can get everything they need at one convenient location. For more information or to schedule an appointment, visit her website or call (775) 683-3008.